10 Reasons Why The AssaultRunner Is The Safest Treadmill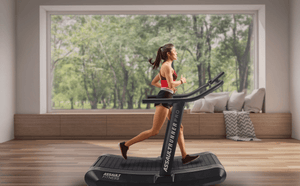 10 Reasons Why The AssaultRunner Is The Safest Treadmill 
Treadmills can be an incredible tool for any home fitness user or gym owner. They provide a guaranteed running workout (rain or shine), can help increase cardio & aerobic capacity, and allow you to personally tailor your training to meet your specific fitness goals. 
But not all treadmills are built the same. Compared to motorized running machines, manual treadmills are hands-down the safest option when shopping for a home gym environment. Aside from above-ground-running, manual treadmills also produce the most natural and powerful user experience available from a running machine.
Check out the top ten reasons why the AssaultRunner treadmill is the safest option when looking for a treadmill to add to your gym.
1. 100% User-Powered 
Unlike motorized treadmills, manual running machines are completely powered by YOU. The belt will automatically begin to slow down as soon as you stop walking or running. This means that you're always in control of your speed and can quickly change pace by stepping off to the side of the treadmill.
2. Transport and Safety Handle
Both AssaultRunner models are designed with a multi-purpose transport handle located below the running surface. Not only does the transport handle make it easier to move the AssaultRunner, it also acts as a safety feature that blocks passage underneath the treadmill. This can prevent small objects, children or pets from getting pulled below or potentially stuck underneath the machine. 
3. No Electric Plug-In
Electrical cords are a potential safety hazard for children or pets, especially in a home gym environment. However, manual treadmills like the AssaultRunner do not require any electricity and therefore do not have a dangerous cord or power-outlet plug-in. Because it has no electrical-consumption, the AssaultRunner also has a low carbon footprint, which is better for the environment and home energy costs!
4. Less Distractions
While charismatic trainers, loud music and stimulating graphics may help motivate you to work out, they can also cause you to be more distracted and lead to preventable injuries. The AssaultRunner does not come with a large TV screen or interactive media console, that way you can easily focus on your running form and the environment you're in.
5. Promotes Better Form
The curved design of the AssaultRunner treadmill encourages proper running form by requiring the user to maintain an upright position in order to sustain their preferred speed. The contoured running surface also mimics above-ground running more closely than a standard motorized treadmill, which means it's a great option for those who train both indoors and outdoors. 
6. Gradual Design
The AssaultRunner has the most gradual curve when compared to other contoured manual treadmills. The natural curve of the AssaultRunner puts less stress on joints, and also allows the user to better control their speed output.  
7. Shock-Absorbent Belt
The AssaultRunner's low-impact belt is designed with shock-absorbing materials that helps to prevent injuries and protects joints and muscles from undue stress. 
8. Connect to Bluetooth
Stay connected while you train! Both AssaultRunner consoles come equipped with dual-band wireless heart rate receivers that connect to Bluetooth and ANT+ so you can track your heart rate directly on your preferred device. 
9. Commercial-Grade Durability
We overbuilt the AssaultRunner's main frame structure with solid steel and heavy-duty tubing in order to create the smoothest & most stable running experience ever offered from a manual treadmill. The AssaultRunner also has two stabilizing feet that keep the machine secure, even during your toughest workouts. 
10. Low Maintenance
Because there are no motors or expensive electronics that can require constant upkeep, the AssaultRunner is virtually maintenance-free! We designed the AssaultRunner with durability in mind. To us, that means UV protected consoles, integrated transport wheels, sweat-resistant handgrips, and corrosion-resistant hardware.
Posted by Assault Fitness University on