AssaultRower & Runner Take Win Men's Health Home Gym Awards 2022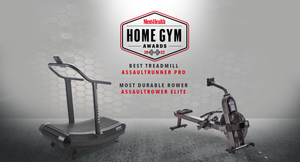 Each year, the editors at Men's Health test and evaluate hundreds of different home gym products with an eye for durability and design. This year, two fitness machines from Assault Fitness made the list: The AssaultRower Elite and the AssaultRunner Pro. These two pieces of equipment have been recognized as the Most Durable Rower and Best Treadmill respectively in the Men's Health Home Gym Awards 2022. In this blog post, we will discuss why these two machines were chosen, who can benefit from them, and how they can be used to enhance your workout routine.
What Makes the AssaultRower Different?
The AssaultRower Elite is an air rower designed to provide users with a full-body cardio workout that is tailored to their individual goals. It utilizes an air resistance system with a dual stage chain and belt drive that offers the smoothest rowing experience you'll find. Men's Health says, 
"The all-steel frame and powerful fan-based resistance combine to create a heavy-duty home rower."
Additionally, its robust construction ensures that it will withstand heavy use without any issues. This makes it an excellent professional rower for anyone looking for a durable rower that will have minimal maintenance over time.
What Makes the AssaultRunner Different?
The AssaultRunner Pro is a manual treadmill designed specifically for those looking to improve their running performance or just get in some extra cardio during their workout routines. Its ergonomic design helps ensure proper form while running. Being completely athlete-powered, it allows the runner to control their speed and mimic running outside as closely as possible. According to the Men's Health article,
"Assault Fitness' self-powered tread will push your hamstrings and glutes to the limit, honing your stride in a way that standard powered treads can't."
In addition to its durability and ease of use, the air runner is a portable treadmill that you can move wherever you like to workout. These features make it perfect for anyone looking to bring their running experience to the home or just improve their overall performance on the treadmill. Lastly, the value for the price of this treadmill makes it an excellent choice in comparison to competitors.
Bottom Line
Both the AssaultRower Elite and the AssaultRunner Pro are excellent pieces of cardio equipment that are well-suited for athletes, functional fitness enthusiasts, and anyone looking to improve their cardio workouts at home. They have been voted Most Durable Rower and Best Treadmill respectively by Men's Health in its Home Gym Awards 2022 due to their superior design and construction as well as their ability to help users reach their fitness goals more effectively than ever before. If you're looking for a durable piece of equipment that will help you reach your health goals faster, then look no further than these two great options from Assault Fitness!
Check out the Assault Fitness running machines and the Assault Fitness Rower for more details. For exclusive discounts and offers, sign up for SMS and email notifications.
Posted by Assault Fitness University on