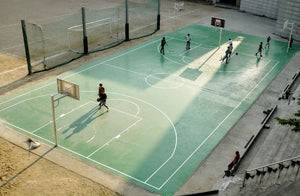 Basketball is a dynamic, fast-paced game that has captured the imagination of millions of people around the world. It produced one of the most electrifying plays in all of sports (the slam dunk) and the some of the world's most recognizable athletes. Despite the razzle-dazzle now associated with the sport, basketball is essentially a simple game with a straightforward goal: Put the ball in the opponent's basket.
A basketball game is a sprint. The track is 94 feet x 50 feet and it is a race against the opposing team to score the most points before the clock expires. At the highest levels, basketball is essentially a race against time.
In addition to the game clock, athletes must also consider a (24-30 second) shot clock, time violations for inbounding the ball (5 seconds), crossing the mid-court line (8-10 seconds) and the time permitted to stand in the "paint" key (3 seconds). An elite basketball player must not only be in superior physical condition, but also be mindful of time and accurate in their execution of tasks. Training and preparation must mirror game situational circumstances.
When I played competitive basketball my coach instilled in me a basic basketball principle, "You work hard on defense, and relax on offense" the objective of this workout is to simulate the effort applied to the defensive concepts on the defensive side of the ball and contrast that effort with the offensive concepts of rhythm, tempo, accuracy and efficient execution. We will utilize a high intensity interval training format (HIIT) for this workout.
The Workout:
Tasks are performed in a continuous circuit every minute on the minute, athletes will rest if there is any time remaining within the one minute time allocation.
Defense (every minute on the minute):
20 Wall balls /1min
20 Box jumps /1min
20 Pull-ups /1min
20cal Assault /1min
Offense (every minute on the minute):
30 Jump rope /1min
30 GHD /1min
30 Push-ups /1min
30 Walking lunges /1min
4 Rounds for task completion:
Posted by Amanda Scott on