The Ultimate Air Bike for Gym Owners & Fitness Enthusiasts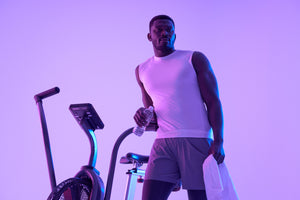 The AssaultBike Elite, a high-end air bike designed for intense cardiovascular workouts, was recently featured as one of the "7 Best Air Bikes" in a Healthline article about the benefits of using an air bike for fitness. The article describes the unique benefits of air bikes, which use a fan to create resistance, and highlights the AssaultBike Elite as the editor's pick for serious athletes and fitness enthusiasts.
Is the AssaultBike Durable?
One of the key features of the AssaultBike Elite is its durability and stability. It's heavy-duty steel frame makes it the sturdiest model built to endure the wear and tear of gym goers. If you're a gym owner or coach, considering the AssaultBike Elite for your gym is a wise choice.
Is the AssaultBike Comfortable?
The adjustable wide seat and built-in, removable wind screen allows the bike to have optimal comfort during long workouts. The bike also has advanced programming options, including customizable intervals and heart rate programming, to help users achieve their fitness goals.
Using the AssaultBike for HIIT
The article notes that air bikes are a great option for high-intensity interval training (HIIT), as they provide both cardio and strength training benefits. The AssaultBike Elite is particularly well-suited for this type of workout, with its smooth and consistent resistance and easy-to-use console for tracking progress.
Proper Cycling Form with an AssaultBike
Moreover, the AssaultBike Elite along with its other air bike counterparts is designed to support proper bike form. Unlike some competitors, the AssaultBikes are built so that your hips and legs follow natural biking patterns. The difference is feeling like you have just finished riding a bike as opposed to feeling like you've just ridden a horse.
Bottom Line
Overall, the article recommends the AssaultBike Elite as a top choice for gym owners or coaches and anyone looking to take their fitness to the next level with a challenging and effective workout. With its advanced features and rugged construction, this air bike is a great investment for anyone serious about their health and fitness or helping others achieve their fitness goals.
Check out the AssaultBike Elite and the other AssaultBikes for more details. Assault Fitness offers exclusive deals and discounts when you sign up for email and SMS alerts.
Posted by Assault Fitness University on