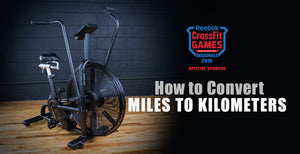 How to Convert Miles to Kilometers on the Assault AirBike:
As Assault Fitness Products continues to grow in their international reach and bandwidth, the question concerning the conversion of the distance metrics from miles to kilometers (meters) has moved to near the top of our "most frequently asked" questions. Assault is also thrilled that one of this year's CrossFit Regionals workouts features a 1km (1000 meter) bike component. To get your Assault AirBike into Regionals-ready mode, here is how to convert the console to measure kilometers instead of miles.
---
Conversion is easy and fast. Follow these three simple steps for converting miles to kilometers:
Step 1: Begin by hard resetting the bike's computer: This action is achieved by holding down the 'STOP' button until you hear a beep.
Step 2: Push down the START and ENTER buttons simultaneously until the display reads the word 'DISTANCE'.
Step 3: Press the UP/DOWN arrows to display the 'KILOMETERS' reading (instead of miles) and press ENTER.
To Convert Kilometers to Meters:
1 kilometer = 1000 meters
For the Regionals Workout #6 for 2016, you will need to bike 1 kilometer (1000 meters) to complete that portion of the workout.
Best of luck to everyone!
Posted by Amanda Scott on