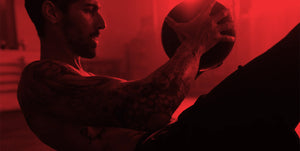 HIIT, or high intensity interval training has become one of the most popular fitness trends of the 2018 and for good reason.
The core of HIIT is to give high-intensity effort for quick bursts followed by short periods of rest. For example, a person may give maximum effort while sprinting for 30 seconds followed by 60 seconds of recovery time. This process is then repeated multiple times for a total workout length of 10 to 30 minutes.
Research has shown that HIIT pumps up the heart rate and burns more calories in less time than standard aerobic workouts. Studies found that 20 minutes of high intensity interval training can produce the same aerobic and anaerobic benefits as exercising for twice as long with steady, continuous effort.
HIIT is able to achieve these results by putting the body into a state of prolonged recovery where calories and fat are being burned up to a full day after completing a workout!
Both the Assault AirBike and AirRunner can provide fantastic HIIT workouts. We've teamed up with our resident trainer to put together over 150 workouts designed to torch calories, including plenty of options for HIIT training. Sign up today and receive weekly workout ideas so you can make the most of the burn!
Posted by Melinda Herrera on